Anywhere Out of the World: The Work of Bruce Chatwin
By the time of his death in 1989 at the age of forty-eight, Bruce Chatwin had become one of the most celebrated writers of the twentieth century. Though his career spanned a mere twelve years, his impact and influence was profoundly felt; Chatwin's first book In Patagonia 'redefined travel writing', it was said, whilst his later novel The Songlines became one of the literary sensations of the 1980s. Andrew Harvey wrote in the New York Times in 1987 that 'Nearly every writer of my generation in England has wanted, at some point, to be Bruce Chatwin; wanted, like him, to talk of Fez and Firdausi, Nigeria and Nuristan, with equal authority; wanted to be talked about, as he is, with raucous envy; wanted, above all, to have written his books'. Incorporating original and extensive archival research, as well as new interviews with his family and friends,
Anywhere Out of the World
provides the definitive critical perspective upon the literary life and work of this enigmatic and influential author.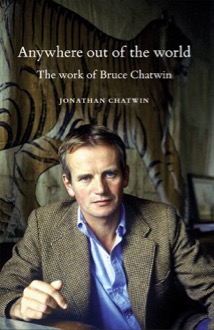 'In
Anywhere Out of the World
Jonathan Chatwin convincingly argues that Chatwin's fascination with the nature of human restlessness is at the core of all his writing as well as his restless lifestyle. [An] intelligent and readable survey ... Jonathan Chatwin's acute probing yields the best account yet of the origins of [Bruce] Chatwin's restless mania.'
Nicholas Murray,
The TLS
, 15th February 2013
Buy at:

Amazon.com
Amazon.co.uk
Manchester University Press